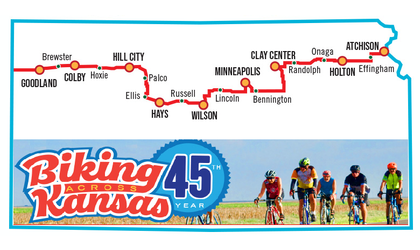 Credit: Facebook
(KAIR)--When the 2019 Biking Across Kansas event wraps up Saturday, a morning of activities are planned in Atchison, the final stop of the eight-day, 501 mile journey.
According to a release from the City of Atchison, the 45th annual tour is comprised of more than 800 cyclists, including some from the local area, who are expected to arrive in Atchison Saturday morning.
The final stop will include not only a celebratory dipping of front wheels in the Missouri River, at Atchison's Independence Park, but also a ride through downtown Atchison's parade route, complete with a welcome from the local community.
The release says a Bike Rodeo for Kids is also being coordinated by Live Well Live Atchison in conjunction with the arrival of the cyclists.
Planned from 9 until noon at Independence Park, the event will include a street-style agility course. Those wishing to attend should bring bikes or scooters, along with helmets.
The Biking Across Kansas cyclists will make their way to Atchison from another local host city, as Holton welcomes them with ceremonies on Friday.
The annual event began June 8 at the Kansas-Colorado state line, west of Goodland.