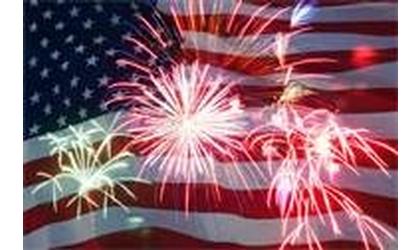 (MSC News)--Numerous local communities will commemorate the nation's independence during the upcoming days
Hiawatha and Sabetha will hold their Independence Day celebrations Wednesday evening.
At Hiawatha, the Hiawatha Chamber and Visitors Bureau will have a tent set up near the Skate Park from 7 to 9 to hand out free water, along with glow-in the dark bracelets to the first 500 kids. Face painting will be available and the Hiawatha Community Jazz Band will perform in that area , beginning at 7:00. The Brown County Historical Society will hold an ice cream social from 5 to 7 at the Carwell Building at the Ag Museum. The fireworks will start at dusk on Windmill Lane, set off by the Hiawatha Fire Department and sponsored by the city of Hiawatha and Hiawatha Chamber and Visitors Bureau.
In Sabetha, the Sabetha Fire Department will hold the city's fireworks display at 10 p.m. at the 6th Street sports complex.
Bern, Centralia, Highland, Horton, Humboldt, Robinson and Troy are all planning a full day of activities Thursday to celebrate the 4th of July, with fireworks at dusk.
Horton's activities will begin with the Annual Fishing Derby at the Little Lake for kids up to the age of 15. Registration will be at 7:00 in the morning with the derby taking place from 8 to 9. That will be followed by a sand volleyball tournament at Mission Lake. There will be food and games at Hickory Point on the lake. New this year with be a boat parade. All motorized watercrafts are welcome. Boats will line up at the north end of Mission Lake at 5:30 with the parade starting at 6:00. Fireworks will light up the sky at dusk.
Atchison will also celebrate the 4th of July Thursday with a fireworks display at Warnock Lake.
Everest will hold their Independence Day celebration Friday, with fireworks at dusk.