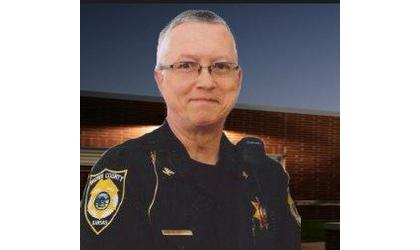 Brown County Sheriff John Merchant
Editors note: the following was submitted by Brown County Sheriff John Merchant
I would like to remind everyone about extra precautions and safety now that
the school year is starting.

Whether you are walking or driving to school, PUT YOUR PHONE DOWN. Students need to be observant at all times.

If you are walking to school, LOOK BOTH WAYS BEFORE CROSSING THE STREET.

Always wear your seatbelt when riding in vehicles--ARRIVE ALIVE.

Drivers--slow down and always be more observant of school children walking,
children on bicycles and school buses.

Teen drivers---Do not use your cell phone when driving, avoid any unnecessary distractions in your vehicle, drive safely and always wear your seatbelts. Allow plenty of time to get to school and activities.

Report any suspicious activity immediately to your parents, teachers or law
enforcement AT ONCE. Do not wait or hesitate, especially if someone or
something makes you feel uncomfortable. If you think you need to report
something, make sure you do.

BE KIND! We all have the ability to changes someones day for the better. If
you see a fellow student struggling, kindness and support always wins out
over frustration and bullying.

We all want to wish all students, staff and parents a safe and happy school
year!