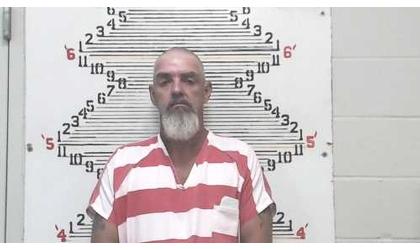 Sean Davidson/Credit: Brown Co Sheriff's Office
(KNZA)--A lengthy investigation by the Hiawatha Police Department has lead to the arrest of a second Hiawatha man on drug charges.
Hiawatha Police Chief John Defore, in a news release, said 50-year-old Sean Davidson was arrested Friday afternoon after officers served a search warrant at a residence at 400 South 4th Street.
Davidson was booked into the Brown County Jail on charges related to the possession of illegal drugs.
The case has been turned over to Brown County Attorney Kevin Hill for prosecution.
64-year-old Gregory Carr was arrested Thursday afternoon after officers served a search warrant at 814 Hiawatha Street. Carr has been charged with a felony count of possession of methamphetamine with intent to sell and a misdemeanor count of possession of drug parapheranalia.
Defore said the investigation is ongoing.
He said the police department has received several tips this summer related to the use of illegal drugs in the city and are diligently following up on every lead.
Defore said " it is no secret that the Hiawatha Police Department is spreading the word that we will not tolerate illegal drugs in our community."