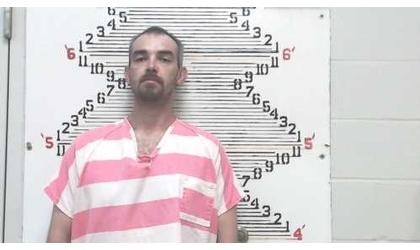 Zachariah Brown/Credit: Brown Co Sheriff's Office
(KNZA)--A Horton man is facing several charges, following his arrest in connection with a stolen vehicle.
According to a news release issued by Hiawatha Police Chief John Defore, 36-year-old Zachariah Brown was arrested September 4 as part of the stolen vehicle investigation, which included the assistance of the Brown County Sheriff's Office.
Brown County Sheriff John Merchant told MSC News an off duty deputy, doing yard work, assisted in the arrest of Brown, after he spotted what he believed to be the stolen vehicle. "He had been on duty the night before and there had been a stolen vehicle reported, and he saw it by where he was working at," Merchant said. "He did as he should. He got on his phone and he called dispatch and they dispatched a city officer over, and they came over and they were doing the investigation. During the course of the investigation, I guess the individual that had been driving the car that was reported stolen was hiding at the time. Unbeknownst to the officer, he tried fleeing on foot, but our off-duty deputy witnessed it and took chase after him."
According to Defore, a short scuffle ensued after officers cornered Brown during the foot chase.
Brown was taken into custody, and booked into the Brown County Jail.
Defore said the investigation led officers to the recovery of the stolen vehicle, an illegal firearm, suspected illegal narcotics, and drug paraphernalia.
Brown County Attorney Kevin Hill says Brown was formally charged Friday with felony counts of aggravated battery of a law enforcement officer and possession of methamphetamine along with a misdemeanor count of possession of drug paraphernalia.
Brown remains jailed on $25,000 bond.