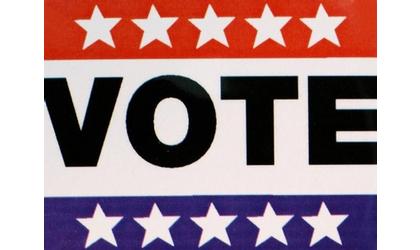 (KAIR)--New leadership is decided for the Atchison City Commission.
That happened Tuesday when Atchison voters went to the polls to determine who would fill the three open seats.
The unofficial results, as tabulated by the Atchison County Clerk's Office, show Abby Bartlett earning the most votes with 803. She was followed by J. David Farris with 719 and Lisa Moody with 622.
Incumbents Charles Perdue and David Hausmann were ousted unofficially, with Perdue earning just 4 votes less than Moody.
Voters also decided new leadership for Atchison's USD 409, with Sally Berger earning 1,077 votes, Pamela Rizza gaining 826, and Stephanie Gardner taking 719 votes.
Incumbent Herb Gwaltney was defeated in his bid at re-election to one of the three open seats.
All results are unofficial pending the November 18 canvas of the ballots by the Atchison County Commission.
Atchison County Clerk Michelle Phillips told MSC News unofficial estimates indicated 27 provisional ballots were cast.
She estimates Tuesday's turnout at the polls at 19.6%.
In Doniphan County, voters decided the outcome of three open seats on the Elwood City Council, re-electing incumbents Dustin Robinson with 114 votes and Travis Holcomb with 108 votes. Newcomer Darrell Lamme earned the top number of votes, elected to the council with 117.
Incumbent Sam Meers was defeated.
Highland Mayor Charles Batchelder retained his seat, defeating challenger Scott Huss 110 to 42.
Marty Allen was elected to one of two open seats on the Highland City Council with a vote total of 124, joined by Danny Collins who received 91 votes.
Incumbent Bob Halter remains on the Wathena City Council, retaining one of two open seats with 159 votes. Aaron Cluck joins the council, receiving 108 votes.
Incumbent Ron Meers was defeated.
The Doniphan West USD 111 Board of Education at-large position will be filled by Dustin Libel, with 198 votes.
Three open positions were decided for the Highland Community College Board of Trustees, with all three incumbents retaining their seats.
Carl Tharman received 701 votes, Russel Karn gained 617, and Ken Huss earned 596.
Three open seats were decided on the Riverside USD 114 Board of Education, with incumbent Sue Bartley earning re-election with 166 votes. Erin Shackelford took 186 votes, while Jeff Harman received 119.
Incumbent Tina Kimberlin was ousted.
Jessica Herbster was elected to the at-large position with 343 votes.
Four at-large positions were filled on the Troy USD 429 Board of Education, as all three incumbents earned re-election.
Jason Winder received 250 votes, Nathan Geiger gained 247, and Steven Bowe received 162. Timothy Grable was elected with 227 votes.