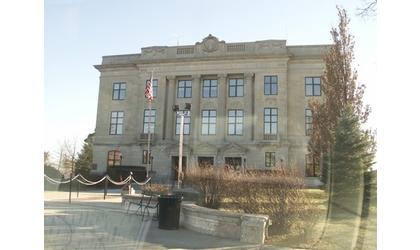 Brown County Courthouse
(KNZA )-The Brown County Commission has turned down a request for the striping of a three-mile stretch of Old Highway 75.
County resident Steve Lukert met with Commissioners Monday to again request that the highway be stripped from U.S.36 to the Sabetha city limits for safety reasons. He said he would like to see it done next year when the county chip and seals the road.
Lukert indicated he would be willing to raise the funds for the project.
But Commissioners said they were not it favor of striping the road. They voiced concerns about the precedent it would set. Commission Chairman Keith Olsen said if the county were to stripe the road they would have to do it for others.
Commissioner Rich Lehmkuhl said he would rather look at lowering the speed limit to 45 miles an hour.
Brown County shares maintenance responsibility for the stretch of highway with Nemaha County.
In other business, the Commission approved the hiring of Wanda Davis as the new Hiawatha Senior Citizens activities director. She will begin work December 2nd, replacing Corbin Gray who is stepping down.
The Commission also accepted a quote from Carpet Plus, of Hiawatha, in the amount of $5,577 for the installation of new flooding in the Hiawatha American Legion building, which serves as the senior citizens center.