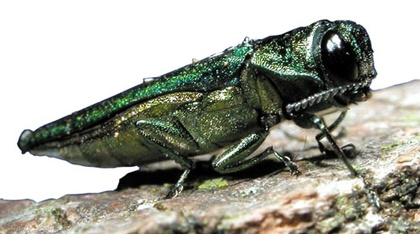 (KNZA)--The Kansas Department of Agriculture along with the U.S. Department of Agriculture has confirmed the presence of emerald ash borer in Jackson County.
According to a news release from the state Department of Agriculture, emerald ash borer adults and larvae were recovered from a girdled tree trap near Denison by KDA staff on November 13.
Regulatory officials with USDA's Animal and Plant Health Inspection Service's Plant Protection and Quarantine confirmed the presence of the pest on November 22.
Emerald ash borer, a pest of ash trees native to Asia, was first discovered in North America near Detroit, Michigan, in summer 2002. Since that time, the pest has killed millions of ash trees across the United States. It was first identified in Kansas in 2012, and has been identified in several northeast Kansas counties in the last seven years.
KDA encourages anyone in northeast Kansas to monitor their ash trees for signs of the pest, and to be vigilant in not transporting any wood or tree materials from ash trees out of your county.