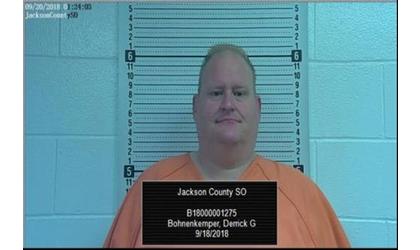 Derrick Bohnenkemper/Credit: Jackson Co Sheriff's Office
(KNZA)--The arraignment for a Holton man accused of fatally shooting his father in 2018 has been continued.
Jackson County Attorney Shawna Miller told MSC News the arraignment for 50-year-old Derrick Bohnenkemper was continued Friday in Jackson County District Court to March 13. Miller said they are still waiting on a report from a defense expert.
Bohnenkemper is charged with one count of first-degree murder, five counts of attempted capital murder and one count of aggravated assault.
He is accused of fatally shooting his 73-year-old father, Gaylen Bohnenkemper, on September 18, 2018.
The elder Bohnenkemper was found inside a residence north of Holton after his son surrendered to authorities following a more than five hour armed standoff, during which shots were fired at officers.
Bohnenkemper also faces two counts of assault on a law enforcement officer and one count of assault in a separate case stemming from a November 6, 2018 incident in the Jackson County Jail.