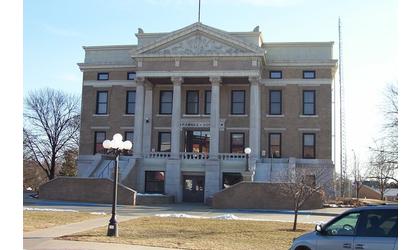 Pawnee County Courthouse
(KLZA)-- Following a public hearing which drew no public input Tuesday, Pawnee County Commissioners approved the One – and - Six – Year Plan for highway improvements in Pawnee County.
Highway Superintendent Chris Rauner presented the plan to the Board.
Commissioners also opened bids for six bridge sites in Pawnee County and sites shared with Johnson and Nemaha counties.
The sites are on 610 Avenue between 708 and 709 Road; On 619 Avenue between 705 and 706 Roads, which are both in Pawnee County; On 736 Road between between 608 Avenue and 609 Avenue in Johnson County; and on three Gage County sites; West Plum Road between 131 Road and 142 Road; on South 80 Road between East Oak and East Maple Roads and on West Willow Road between S1 and S-10 Roads.
The bids were for corrugated metal pipes with steel headwalls and wingwalls and other incidental work at the sites.
Three bids were received. Midwest Service and Sales Company of Schuyler, Nebraska submitted the low bid in the amount of $313,262.
The cost of the projects in Pawnee County will be $52,720 for the project on 610 Avenue and $59,184 for the project on 619 Avenue.