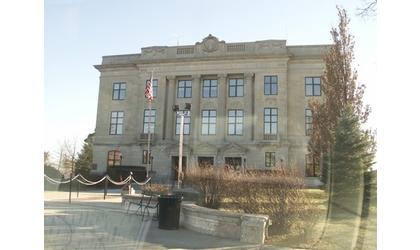 Brown County Courthouse
(KNZA)--The Brown County Commission is moving forward with two bridge repair projects.
The Commission Monday accepted the lone bid received from Husker Steel, of Columbus, Nebraska for the repair of a bridge located on Prairie Road, south of 270th Road, in the amount of $151,967.
The Commission also accepted a bid from Husker Steel for the repair of a bridge on 270th Road, west of Plum Tree Road, in the amount of $98,852.
Both bridges were damaged by heavy rain earlier this year.
In other business, the Commission accepted a bid from Welborn Sales, of Salina, for the purchase of 60 by 60 foot tube to replace a tube located on Mallard Road, a half mile north of 130th Road, in the amount $ 12,222, with a two-week lead time.
It was among three bids received.
Commissioner Lamar Shoemaker discussed helping gravel a one mile stretch of Plum Tree Road from U.S. 73 Highway to 120th Road. He said the road allows access to the business Full Throttle Repair.
On the recommendation of Shoemaker, the Commission approved paying $7,000 toward the purchase of the gravel, with the payment to be made directly to the quarry from District 2 road and bridge funds.