New Atchison Co Attorney selected Thursday
11/01/2018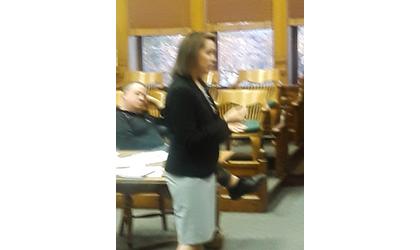 Sherri Becker outlines her qualifications during Thursday's selection of a new Atchison Co Atty/Credit: Brian Hagen/MSC News
(KAIR)--A new Atchison County Attorney is selected, chosen through a vote during a convention of the Atchison County Republican Central Committee Thursday evening at the Atchison County Courthouse.
Following nominations, which led to the selection of three nominees who explained why they should be selected, votes were cast.
Central Committee Chairman Derek Franklin, serving as Convention Chair, announced the selection. "Sherri Becker is our new County Attorney, Franklin told the Committeemen and Committeewomen in attendance at the Atchison County Courthouse.
Sherri Becker defeated local attorneys Allen Ternent and Andrew Werring in gaining the position. "I'm very excited," Becker told MSC News moments after her selection was announced. "I've always loved being a prosecutor, and I can't wait to put my skills to use in our community. I'm from here, grew up here, so I'm excited to be able to represent our community, and I hope that I'll make everyone proud."
Becker told MSC News that despite the numerous goals that come with the office, community safety is her key aspiration. "There's so many goals as a prosecutor, but really it's to keep the community safe. It's to be the voice for victims, whether they're strong enough to do it on their own, or they're not, so listen to them. But really, it's to hold people accountable for the things that they do, and to try to keep our community safe."
Becker will begin serving in the role once she is formally appointed to the position by Kansas Governor Jeff Colyer.
The unexpired term, which comes up for election in 2019, was vacated by Jerry Kuckelman, who resigned last week following his selection to serve as 1st District Court Judge.
© Many Signals Communications
You will need to be logged in to leave a comment.
Please Login The posting of advertisements, profanity, or personal attacks is prohibited.
Click here to review our Terms of Use.

FTL1985 11/02/2018 12:09 AM
She speaks of being the voice of the victims and holding people accountable for the things they do and keeping the community safe but nowhere does she mention anything about helping those people that make the mistakes. Some day maybe our judicial system will actually focus on correcting thinking errors in those that break the law an try to eliminate repeat offenders rather than lock them up so that they may network with other offenders an develope new methods of committing a crime or learn other crimes in general. Jails an prisons arent always the answer. And sometimes people make bad choices for good reasons or because they dont know other options. Hopefully this lady will keep in mind that the courts are there to hand down a punishment that results in the person correcting the wrong behavior. There people too, dont treat them like animals or something.