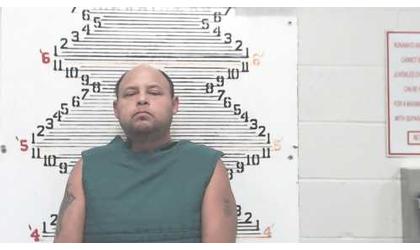 Anthony Walker/Credit: Brown Co Sheriff's Office
(KNZA)--No injuries are reported following a 10-hour standoff on the Kickapoo Reservation during which shots were fired at law enforcement officers.
Kickapoo Tribal Police Chief Nathan Gray says an officer was called to a home in the 1200 block of Fern Street around 9:00 Tuesday evening for a domestic disturbance.
Gray says when the officer arrived, he could hear gunshots coming from the residence.
Multiple agencies responded as shots continued to ring out, leading to a standoff.
The standoff ended peacefully around 7:00 Wednesday morning. Gray says the Kansas Highway Patrol sent a team inside the home and took the suspect into custody.
Brown County Sheriff John Merchant says 54-year-old Anthony Walker, of Horton, was booked into the Brown County Jail on a charge of kidnapping. He's being held on a $500,000 bond. Other possible charges are pending.
Gray say a woman in the home was able to escape without injury before the standoff ended.
Responding to the scene were the Kansas Highway Patrol, Horton Police Department, Kickapoo Tribal Police, Sac and Fox Tribal Police, Brown Co. Sheriff's Department, Nemaha County Sheriff's Department and Topeka Police Department, which sent an armored vehicle.