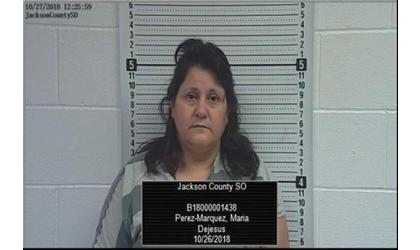 (KNZA)--An Omaha, Nebraska woman accused of killing three members of a Sabetha family and injuring two others in a Jackson County head-on collision last November will stand trial.
Jackson County Attorney Shawna Miller told MSC News that 49-year-old Maria Perez-Marquez was bound over on three counts of involuntary manslaughter and two counts of aggravated battery following the conclusion of her preliminary hearing Monday.
Perez-Marquez also faces a misdemeanor charge of reckless driving.
Arraignment was scheduled for the morning of January 11.
The Kansas Highway Patrol says Perez-Marquez was driving a sport utility vehicle the evening of November 25, 2017 on U.S. 75 Highway when she attempted to pass another vehicle, leading to the fatal crash.
Killed in the crash were 42-year-old Carmen Ukele , her 11-year-old daughter, Marlee, and 62-year-old brother-in-law, Stephen. Carmen's husband, Lee, was seriously injured in the wreck. Also injured was a passenger in the Perez-Marquez vehicle.
Miller says Perez-Marquez original bond was reinstated, plus three family members were required to sign a separate $10,000 " O.R." bond ( total of $30,000). She will also be required to sign a waiver of extradition.