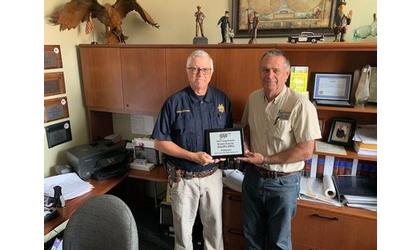 ( Submitted )
(KNZA)--The Brown County Sheriff's Office has been recognized by AAA Kansas for their efforts in addressing local traffic safety issues.
Bob Hamilton, law enforcement liaison for the Kansas Department of Transportation, presented the 2019 Community Traffic Safety Platinum award to Sheriff John Merchant during Monday's Brown County Commission meeting.
Its the 6th AAA Traffic Safety award for the Sheriff's Office and third consecutive year the department has received the Platinum Award, the highest award given.
Two other Brown County law enforcement agencies, the Hiawatha and Horton Police Departments, received Gold Awards.
The three local law enforcement agencies are among fifty-one agencies across the state honored for their 2019 work to keep roadways in their cities and counties safe through a variety of initiatives and programs.
The awards have been presented annually since 2011.