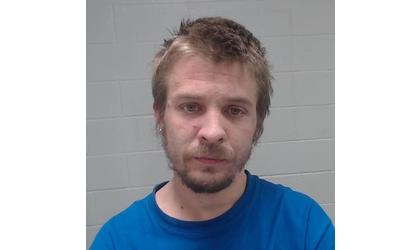 Jeffery Walker/Credit: Atchison Co Sheriff's Office
(KAIR)--A search warrant is executed, and an Atchison man goes to jail, following an ongoing investigation into local drug distribution.
Atchison County Sheriff Jack Laurie said 30-year-old Jeffery Walker was taken into custody Sunday on charges related to the sell of methamphetamine, following the search of his 416 North 7th Street address.
Laurie told MSC News the arrest followed a focus placed on Walker by the Atchison County Narcotics Division. "We've been looking at Mr. Walker for about three months now, and were able to make multiple purchases on him over these past three months," Laurie said. "This was just the right time to finish the investigation and we were able to make another purchase and then obtain a search warrant for his residence."
During the search of Walker's residence, Laurie said methamphetamine, drug paraphernalia, and proceeds from methamphetamine sales were located.
Walker was taken into custody on a charge of distribution of methamphetamine.
Following his arrest, Walker was booked into the Atchison County Jail where he's held on a $50,000 bond.