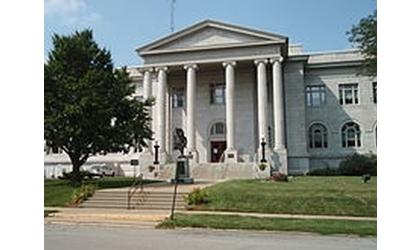 Leavenworth Co Courthouse
(KAIR)--The Leavenworth County Commissioner who came under fire for a racially charged comment has resigned.
The audio of Tuesday morning's Commission Meeting, posted as a YouTube video on the Leavenworth County website, revealed that Louis Klemp's resignation letter was read aloud during the session by County Clerk Janet Klasinski.
Klemp was not in attendance.
In his letter, Klemp said he was resigning "with great sorrow" in order to "maintain a focus and prioritize the needs of the county."
Calls for Klemp's resignation grew following a comment he made during the November 13 meeting of the County Commission.
While speaking to a female presenter, he used the term "master race," which is commonly associated with white supremacy ideology.
Among those calling for Klemp to step down was Kansas Governor Jeff Colyer.
Klemp's resignation lettter directly addressed the controversy, saying the comment was an attempt "at identifying a similarity with a presenter "that was "well-meaning but misinterpreted by some and definitely not racially motivated."
Klemp, in the letter, said he regretted the comment and reached out to the presenter to extend his "regret and support."
The two Commissioners in attendance for Tuesday's meeting voted to accept Klemp's resignation.
Those Commissioners, Robert Holland and Doug Smith, both called on Klemp to resign before his term ended January 15. The Republican Party appointed Klemp to the commission in October 2017 to fill a vacancy created by a resignation. Klemp, who once ran for governor, has come under criticism in the past for making controversial comments.