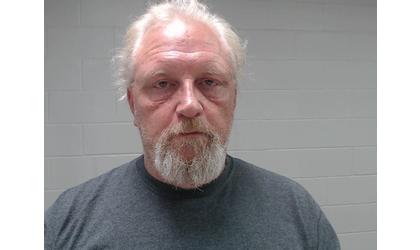 Ross Blanc/Credit: Atchison Co Sheriff's Office
(KAIR)--A weekend raid on Atchison County property sends one to jail, following what authorities say was the seizure of more than 230 grams of methamphetamine.
Atchison County Sheriff Jack Laurie told MSC News 48-year-old Ross Blanc was arrested Saturday, following the execution of a search warrant. "6750 Sherman Road was the address that we conducted a search warrant at. Ended up finding a pretty good quantity of methamphetamine and some other narcotics and paraphernalia."
According to Laurie, both the residence and several outbuildings on the property were searched, leading to the seizure of the alleged drugs, and followed an ongoing investigation. "It's been going on for a few months, and Mr. Blanc's name came up again, and we were able to get some credible information on it, and execute a search warrant while most people were probably watching the Chiefs game."
Blanc was taken into custody on charges of distribution of methamphetamine over 100 grams, distribution of MDMA, commonly known as "ecstasy" or "Molly," no drug tax stamp, possession of marijuana, and possession of drug paraphernalia.
Following his arrest, Blanc was booked into the Atchison County Jail.
Bond for Blanc has been set at $30,000.