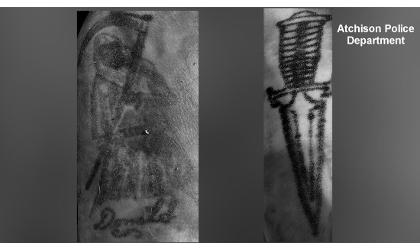 (KAIR)--The Atchison Police Department continues its effort to identify the man whose body was recovered from the Missouri River midday on Sunday.
Police Chief Mike Wilson said the individual is a white male, whose age is estimated to be in his 40's, but that is not certain.
Wilson said the man has two tattoos. A tattoo of a grim reaper with the name Donald is on his right shoulder/bicep area. A tattoo of a dagger is on his left inner forearm.
Anyone who can help police identify the man is asked call Atchison Police detectives at 913-367-5525 during daytime hours or 913-367-4323 during evening and nighttime hours.
----------------------------------------------------------------------------------------
(KAIR)--A body was recovered Sunday from the Missouri River at Atchison.
That was confirmed early Sunday afternoon by Atchison Police Chief Mike Wilson.
Wilson told MSC News a person jogging near the river notified authorities late Sunday morning that a body was floating in the water.
Police responded, notifying the Atchison Fire Department, with that agency using their rescue boat to retrieve the body from the river at the south end of the city
Wilson said an investigation is underway, and it's not immediately believed that the body is that of someone from the immediate, local area. Instead, it's suspected that the body floated to Atchison from a northern location.
Wilson said the body is that of an adult white male, and has been transported to a pathologist for examination.