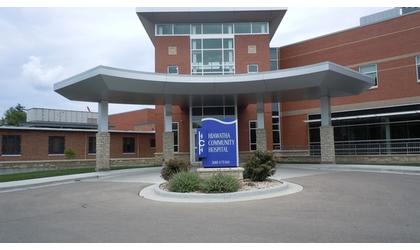 Hiawatha Community Hospital
(KNZA)--Two votes is all that now separates the opposite sides in the vote to impose a 10-year, half-cent countywide retailers' sales tax in Brown County for the Hiawatha Community Hospital.
Following the counting of all mail-in ballots, Brown County Clerk Melissa Gormley reported Friday the vote tally now stands at 1,270 against to 1,268 in favor of the sales tax.
The county clerk's office accepted mail-in ballots that were postmarked on or before Election Day until Friday. Gormley said seven additional mail-in ballots were counted.
On election night, the sales tax issue was down by 3 votes-- 1,267 votes against to 1,264 in favor.
Still to be considered are 40 provisional ballots when the Brown County Commission canvasses ballots during their November 18 meeting. A provisional ballot is used at a polling place to record a vote when there is some question regarding a voter's eligibility.
Its the second time the hospital has sought tax support. During a special election in May, a similar sales tax proposal was defeated by a 29-vote margin.