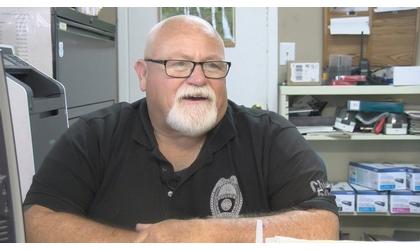 Larry Hunsaker/Credit: KQ2-TV
(KNZA)--Services have been set for former longtime Elwood Police Chief Larry Hunsaker.
Doniphan County Clerk Peggy Franken informed county commissioners Monday that a Celebration of Life Service for Hunsaker will be held Saturday morning at 10:00 at the Riverside east campus gym in Elwood.
Visitation will be Friday evening from 6 to 8 at the Elwood United Community Church.
Hunsaker died unexpectedly December 11 while visiting family in San Diego, California.
His career in Doniphan County law enforcement spanned over two decades.
He retired this past August at the age of 62 after a 15-year stint as Elwood Police Chief. Hunsaker also served as Doniphan County Sheriff from 2002 to 2004.
He continued to serve Doniphan County after his retirement as a part-time investigator with the Doniphan County Sheriff's Department.
Hunsaker began his career in law enforcement in 1977.