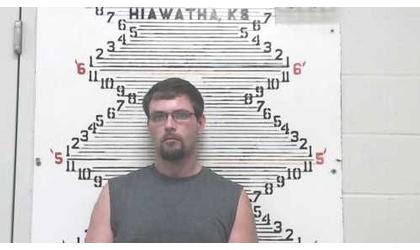 Tobey Barnhart, Jr./Credit: Brown Co Sheriff's Office
(KNZA)--A Hiawatha man was sentenced Monday in Brown County District Court on multiple charges in three separate cases.
30-year-old Tobey Barnhart, Jr. was sentenced to a total of 87 months in prison on seven counts. The sentence was then suspended and he was placed on supervised probation for 24 months.
He had pleaded no contest to two counts of burglary, one count of conspiracy to commit burglary, two counts of felony theft, one count of criminal possession of a firearm and one count of possession of methamphetamine.
Brown County Attorney Kevin Hill said he requested the court sentence Barnhart to prison and deny him probation by invoking a special Kansas sentencing rule allowing for crimes committed while on felony bond to be sentenced to prison even though the Kansas Sentencing Guidelines call for probation. However, in granting probation, the court noted he had been in jail for 179 days and had successfully completed drug treatment.
As part of the terms of his probation, Barnhart was ordered to pay restitution to the victims in two burglaries last July.
The three cases were filed last August following an investigation by the Brown County Sheriff's Department.
Meanwhile, Barnhart is set for arraignment March 23 on charges of burglary, stalking and misdemeanor theft. Those charges were filed in December 2018 following an investigation by the Hiawatha Police Department.
Last month, he was given a suspended prison sentence and placed on probation on charges in two other cases dating back to 2018.