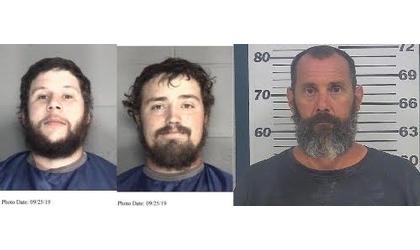 Left to right: Matthew Cole Scherer, Brian Spilman, Jr. (Credit: LV Co Sheriff's Office) and Scott Vandeloo (Credit: Platte Co Sheriff's Office)
(KNZA)--The arraignment for one of three Atchison men accused of playing a role in a fatal 2019 Doniphan County fight was postponed Wednesday to April.
30-year-old Matthew Cole Scherer had been scheduled to enter a plea in Doniphan County District Court to a charge of second-degree murder, but his arraignment was continued to the morning of April 29.
Also charged with second-degree murder in the death of 42-year-old Cummings resident Jason Pantle are 23-year-old Brian Spilman, Jr. and 44-year-old Scott Vandeloo.
Spilman pleaded not guilty to the charge February 5 and is scheduled for a three-day jury trial, beginning May 27.
Vandeloo is scheduled to be arraigned April 8.
Authorities allege the trio engaged in altercations with Pantle during a September 22, 2019 party at 159 Monument Road in rural Doniphan County.
Pantle died September 29 at a Kansas City hospital after suffering what investigators called serious head injuries.
Scherer, Spilman and Vandeloo remain free on $150,000 bonds.