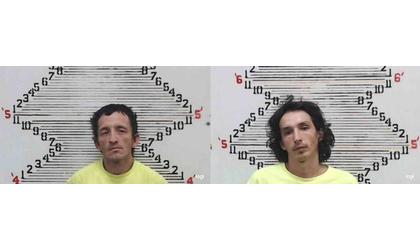 ( L-R) Jacob Brown & Brent Gutierrez ( Credit: Brown Co Sheriff's Office)
(KNZA)--Two Horton residents have been arrested in connection with the theft of a trailer.
Brown County Sheriff John Merchant, in a release, said Brown County Sheriff's deputies on Thursday received a report from a resident of a car trailer that was stolen on May 23.
Deputies stopped the vehicle near Powhattan on Goldfinch Road.
From information obtained from the interdiction, 29-year-old Brent Gutierrez was arrested on a charge of possession of stolen property.
Also arrested was 31-year-old Jacob Brown on charges of possession of stolen property, possession of methamphetamine and possession of drug paraphernalia.
Both men were booked into the Brown County Jail.
Brown remains held on a $2,500 bond, while Gutierrez has since been released on bond.