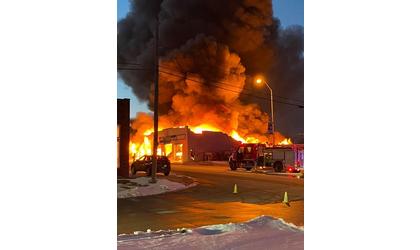 ( Credit: Marty Hughes)
(KLZA)-- The Auburn Volunteer Fire Department was aided by firefighters from Peru, Johnson and Nebraska City battling a downtown fire that started Saturday evening.
Firefighters were called to the 800 block of Central Avenue which is also Highway 136 in Auburn at 6:15 p.m.
The Betterway Auto / Auburn Auto building was destroyed by the fire and the American Dream Real Estate building which houses several businesses was also damaged.
The automobile business had oil, fuel and tires inside the building which added to the intensity of the fire.
More than a dozen vehicles either inside or parked around the automotive business were also damaged during the fire.
The State Fire Marshall will conduct an investigation into the cause of the fire.