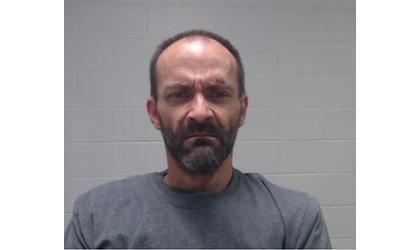 Trevis Vanwinkle (Credit: Atchison Co Sheriff's Office)
(KAIR)--A driver fails to stop for an Atchison County Sheriff's Deputy attempting a traffic stop, and that led to a pursuit, and to the arrest of a Topeka man.
That's the allegation outlined in a report from Atchison County Sheriff Jack Laurie, who said the stop was attempted Tuesday night, shortly before 9:15, on U.S. Highway 59, near Neosho Road.
The driver of the Mercury Grand Marquis failed to heed the emergency lights and sirens, leading to what Laurie calls a slow-speed pursuit of 25 to 45 mph.
The Deputy contacted the Jefferson County Sheriff's Office, and deputies from the agency were able to deploy stop sticks on the highway. However, the driver stopped just short of striking the sticks, near 206th Road at the county line, and was taken into custody.
The driver, identified as 46-year-old Trevis Vanwinkle, was taken into custody on charges of fleeing and attempting to elude, driving under the influence, interference with law enforcement, possession of controlled substance, and multiple traffic infractions.
Following his arrest, Vanwinkle was booked into the Atchison County Jail.