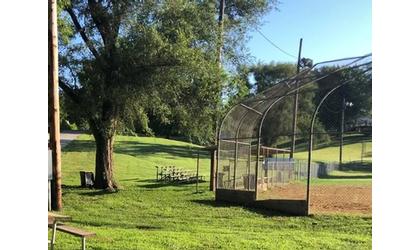 Walt Wilburn Memorial Ballpark/Credit: City of Atchison/Facebook
(KAIR)--With past partnership proposals, or lease agreements, having fallen through, including that of the Atchison Mudcat Baseball organization, the City of Atchison again looks to the future of Walt Wilburn Memorial Ballpark, located in the City's Branchton area.
The City, in 2019, placed the ballpark up for sale, but was met with push back from residents who were using the location for outdoor activities, despite the field no longer maintained, or utilized, for league baseball or softball.
Working with organizations on possible use, the City, in 2021, finds itself still in possession of the ballpark, which is currently held in the City's Landbank.
The City Commission, which also serves as the Landbank Board, met February 16 and discussed the potential sale of the ballpark following receipt of a proposal from Franklin Family Enterprises, which looks to purchase the location for future use for both outdoor and indoor events.
The application for the proposed $20,000 purchase of the ballpark is signed by Atchison resident Derek Franklin, with the proposal including the placement of a large building in the upper ball field to operate as an event venue, including "the opportunity to create a family fun center."
According to the proposal, the long term plan is to have site drawings available to view by the end of first year of ownership, or the summer of 2022, with construction of the structure, including utilities, by the summer of 2024.
During the Landbank Board's review of the proposal, short discussion focused primarily on the type of building being proposed, and where it would be located.
Ultimately, the matter was tabled until the March 1 meeting of the Atchison Landbank Board.