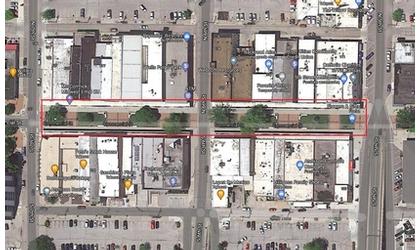 (KAIR)--Despite a two-week winter weather delay, the demolition of Atchison's downtown pedestrian mall, comprising the 500 and 600 blocks of Commercial Street, is beginning.
That can't be ignored due to to the sight of heavy equipment now moved into that location.
According to Assistant Atchison City Manager Justin Pregont, tree removal is likely to begin next week, followed by actual demolition work, which will likely take sometime due to needed extra safety in the removal of the mall's concrete canopies.
Despite that, and the winter weather delay, Pregont said the timeline for completion is not expected to be impacted, with Kansas Heavy Equipment, awarded the $1.4 million construction contract in November of last year, still on target for a June completion.
The City Commission voted last year to move forward with demolition of the mall, which Prejont says will resemble other areas of Commercial Street, once completed.
75-percent of the demolition project's cost is funded through a Kansas Department of Transportation grant, leaving the City responsible for the remaining 25-percent.