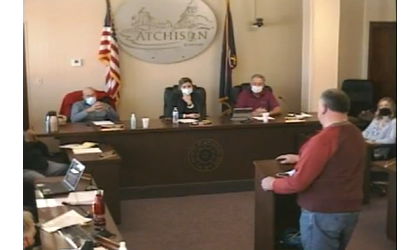 Derek Franklin (at podium) answers questions from the Atchison City Commission/Landbank Board Monday, March 1, 2021, regarding proposed use of Walt Wilburn Memorial Ballpark (Credit: Facebook)
(KAIR)--Public concerns were heard, and answers provided, Monday regarding the proposed sale of Atchison's Walt Wilburn Memorial Ballpark, with the City having received a $20,000 offer for that location.
Seeking to purchase the site, no longer used for league tournaments, is Franklin Family Enterprises, which seeks to see the site used for events, including "the opportunity to create a family fun center," with a large building to be constructed in the upper ball field to operate as an event venue.
Following the adjournment of Atchison's City Commission to a Land Bank meeting, with the City Commission serving as the Landbank Board, residents of the Branchton area, where the park is located, posed questions pertaining to the proposed usage of the property.
In attendance was Derek Franklin, representing Franklin Family Enterprises, who addressed the concerns. Adding that it's unknown the success such a business venture will have in Atchison, Frianklin said a key reason for the purchase is its proximity to property already owned by the Franklin family.
Following the discussion, the Landbank Board voted to approve a resolution allowing for the sale of the former ballpark, with the resolution approved unanimously.
The resolution calls for the publication of a notice announcing the sale at least 30 days prior to the actual sale of the property to Franklin Family Enterprises.