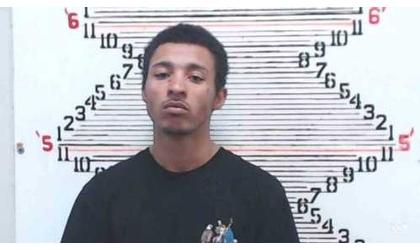 Trevonn Hall ( Credit: Brown Co Sheriff's Office)
(KNZA)--A Hays man, who was on felony parole and driving a stolen vehicle, was arrested in Hiawatha Tuesday evening following a pursuit.
Brown County Sheriff John Merchant said the Sheriff's Office was notified around 7:45 by the Hays Police Department that 21-year-old Trevonn Hall was believed to be in Hiawatha and driving a stolen 2005 Buick Lacrosse . He was reported as possibly armed and having a runaway female juvenile with him.
Hall was in a vehicle pursuit in Hays earlier in the day and had eluded authorities.
Brown County Undersheriff Brian Guilliams located the suspect vehicle parked in the 500 block of Pottawatomie Street. When the vehicle drove away, the Hiawatha Police Department initiated a traffic stop, but the vehicle immediately fled heading east on Iowa Street, where it collided with a Ford Edge that was turning in to Casey's. No injuries were reported in the wreck.
The suspect vehicle then turned north on First Street, where Guilliams took over the pursuit, which ended in a field west of Wal-Mart.
Hall and the 16-year-old female passenger immediately exited the vehicle and ran towards Wal-Mart. Merchant said a good samaritan assisted officers in the apprehension of Hall in the parking lot. The female juvenile was immediately apprehended by Hiawatha Police.
Hall was arrested on charges of both felony and misdemeanor probation violations, felony flee to elude, felony possession of stolen property, felony obstruction, possession of methamphetamine and child endangerment. He was booked into the Brown County Jail.
The 16 year old juvenile was arrested on charges of possession of meth, possession of drug paraphernalia and felony obstruction. She was transported to Douglas County Detention Center by the Brown County Sheriffs office.