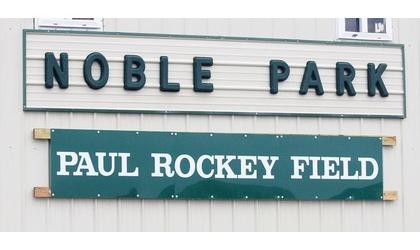 (KNZA)--An indoor practice facility and other improvements are being proposed at Hiawatha's Noble Park.
Ryan Meininger and Noel Boye, representing the Hiawatha Baseball and Softball Club, along with representatatives from Meriden,Kansas-based Mammoth Sports Construction, presented the proposal to the Hiawatha City Commission Monday evening.
The improvements would be done in three phases. Phase one would include the new indoor facility, which could be utilize for multiple functions year round. Phase two would include a new softball field at the park, and phase 3 would include improvements to the existing Paul Rockey Field.
Meininger said he believes the indoor sports facility is something the community needs, especially the youth.
Meininger said they have teamed up with Mammoth to help design the Hiawatha Championship Sports complex and the company will also help with fund raising.
Boye said the group is asking the city for a 50-year land lease for construction of the sports facility, waiver of water/sewer fees and to tie into the city's existing electric system. In addition, he said they are asking the city to provide $10,000 a year in financial assistance for upkeep and maintenance, beginning in 2025.
Boye said the goal is start construction of the estimated $300,000 roughly 9,000-square-foot indoor sports facility this fall, with an early spring 2022 opening.
Mayor Bill Collins said he thinks its a great idea. He asked the group submit in writing some concrete numbers on what they are expecting from the city for the commission's consideration at their next meeting.
The group plans to present the proposal to the Hiawatha School Board next month and seek their support.