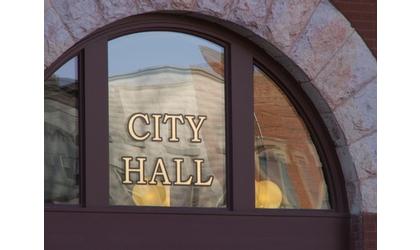 (KNZA)--The Hiawatha City Commission is not ready to lift the city's mask mandate yet.
That was the consensus of commissioners this week after hearing from four local residents regarding the city's mask ordinance. It marked the 4th meeting in row that residents have addressed the commission on the issue.
Chris Kroll, speaking via zoom from outside City Hall because masks are required in the building, stated his opinion that the science behind masks can be easily debunked.
Nancy Dvorak, whose husband and daughter addressed the commission at the last meeting, said she believes the country has been taken over by fear.
Richard Schilling returned to address the commission a second time, stating his belief that masks should be recommended but not mandated. He said the commission should let people make their own decison.
Jay Brock said he did not believe in the severity of the virus until it hit close to home. He now supports the mask mandate and requested the commission keep it in place until they feel it is safe.
Commissioners Becky Shamburg, David Middendorf and Evans Woehlecke said they have heard from residents thanking them for keeping the mandate in place despite some resistance.
Commissioner Brian Shefferd said he feels Hiawatha is late in the game in joining other local communities in moving past the mandate.
Mayor Bill Collins said he would like to see all senior citizens who want to be vaccinated covered before the mask mandate is lifted.
Hiawatha Community Hospital CEO John Broberg and Brown County Health Officer Robin Downard told commissioners they want to see more residents vaccinated before the mask order is rescinded.