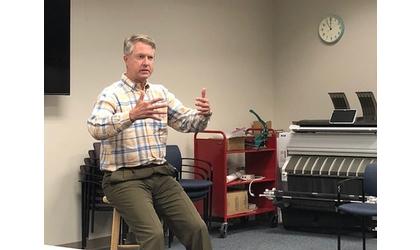 U.S. Senator Roger Marshall at Troy town hall meeting ( Credit: Neil Wieland)
(KAIR)--United States Senator Roger Marshall came to northeast Kansas Saturday, holding town hall meetings in local area counties, including Brown and Doniphan
The Kansas Republican, during his Doniphan County stop at the Troy Community Library, spent nearly an hour fielding questions from constituents regarding a variety of topics, including transgender legislation, the 2nd Amendment, and The Green New Deal.
Regarding transgender issues, Marshall said he is quote – leading legislation to stop the transgender movement – end quote – a remark that drew nods of approval from the approximately one dozen constituents who were in attendance.
As for the 2nd Amendment, Marshall said current legislation being floated in Congress seeking to impose firearm restrictions is quote – unconstitutional, and will, quote – not go anywhere.
Speaking to MSC News at the town hall's conclusion, Marshall placed such 2nd Amendment restrictions as part of what he calls "the radical far left agenda," adding that such proposals have left his Kansas constituents angry:
Marshall, during the town hall, said President Biden and the Democrat-led Congress are also focused on advancing "The Green New Deal," a plan he said would kill American jobs and raise energy prices.
Several in attendance asked what they can do to make their voices heard, with Marshall encouraging them to elect what he called "godly men and women" to serve on city and county commissions, school boards, and state offices.