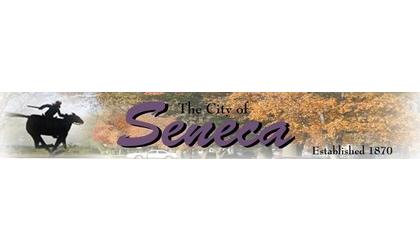 (KMZA)--A new Seneca city clerk has been hired and the muncipal clerk position made full-time.
The City Council, during their May 5 meeting, voted to hire Michele Spring, of the Seneca area, to fill the position.
Spring will begin work May 24 at a starting salary of $18 an hour.
She was among four candidates interviewed.
Spring will fill the vacancy created by the resignation of long-time city clerk Jane Strathman, which was effective April 9.
Tami Haverkamp had been training to be city clerk, but was hired for the city administrator position.
The Council also voted to promote Angel O'Neil from part-time to full-time Muncipal Court Clerk, effective May 28 at a a starting salary of $18 an hour .
The Council approved both actions in one motion on a 4-1 vote, with Council member Alice Lackey casting the lone dissenting vote. Mike Stallbaumer was absent.
In other business, the Council voted to accept the low bid submitted by Honeyman Ford, of Seneca, for the purchase of a 2021 Ford F-150 pickup truck for the public work's department in the amount of $25,372, with trade-in of a 2002 Dodge truck. It was among two bids received.