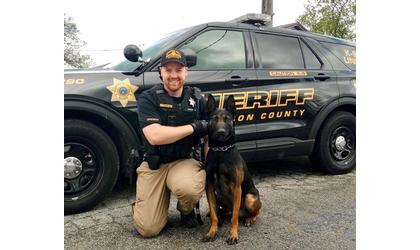 (KLZA)-- The Richardson County Sheriff's Office has a new tool to help their fight against drugs in the area.
Deputy Sheriff Zach Ractliffe has returned from training with the counties new K9 Valor, a single purpose narcotics detection dog.
The two-year-old Dutch Shepherd is from the Netherlands. Deputy Ractliffe trained with the dog in Ohio before bringing him to Richardson County to begin service.
Sheriff Rick Hardesty has made a crackdown on drugs in Richardson County a priority since being appointed to the position. Getting the K9 has been a work in progress for quite a while.
The Sheriff's Office thanked the County Commissioners and citizens for their support in allowing the Department to add a vital tool to the department.
The Department also thanked businesses, individuals and organizations that donated to support the Richardson County K9 program.
The donor list includes:
Amalia Morehead
Dorothy Beutler
Richard and Jane Hall
Michael and Brenda Garriott
A & G Streakhouse
Fur-Ever Friends Pet Grooming (Kylie Vollan)
American National Bank
Community Insurance Group
State Bank of Table Rock
Phillips Plumbing Hardware
Bruna Bros Implement
Mrs. Kenneth Arnold
Lee Tinkler
Jack Railsback
Schawang Farms/Jack Schawang
Sherryn Rist in Memory of Ron Rist
Jean and Jerry McNeely
Humboldt Community Thrift Store
Fast Global Solutions
Alphia Pet Food