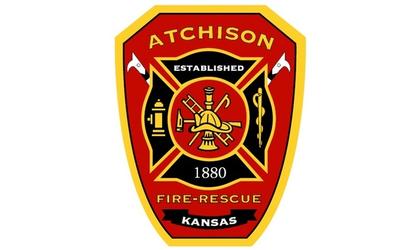 (KAIR)--A Tuesday afternoon fire at an Atchison feed facility sent heavy, dark smoke into the sky, and fire crews rushing to the scene, with the fire brought under control a short time after they arrived.
According to Atchison Interim Fire Chief Patrick Weishaar, no one was injured, and no significant losses are reported, as a result of the fire at North Star Feeds, located at 1629 U.S. Highway 59.
Weishaar told MSC News the fire was under control as of 2:45 Tuesday afternoon, about 30 minutes after crews were called to that location.
According to Weishaar, fire crews, when they arrived on the scene, found insulation on a grain storage bin on fire, with the investigation showing that the fire began when a contractor, using a cutting torch, "accidentally ignited the spray-on type insulation." The contractor was removing the old storage tank to make room for a new one.
Weishaar, in a release, said fire crews remained on the scene Tuesday afternoon "cooling the tank and other adjacent tanks to prevent any reignition."