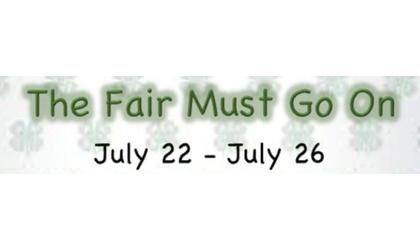 (KMZA)--The Nemaha County Fair kicks off Thursday at the fairgrounds in Seneca and runs through Monday.
The Fair will begin this evening with the horse show at the Horse Arena.
Friday morning will see the entry of all open class and 4-H exhibits before 10:00. Friday evening will bring a pork BBQ by the Nemaha County Pork Producers at 5:30, hog show, Mutton Bustin' at 7:30 followed by the Kraft Rodeo at the Horse Arena. Kristine Kabbes & The Scallywags will be in concert at Skoch Park from 8:00 to midnight.
Saturday will be see the goat show, dairy show and beef show. There will be carnival games at Skoch Park that afternoon. New this year is a cornhole tournament beginning at 1:00. The 4-H Council will hold a BBQ at the Livestock Arena beginning at 5:30. Saturday evening will also see Mutin Bustin at the Horse Arena, beginning at 7:30, followed by the Kraft Rodeo. Sam Shilts will peform at Skoch Park from 8:00 to midnight.
Sunday will see carnival games in the afternoon at Skoch Park, 4-H Public Style Revenue at 1:30 at the Community Building and Barnyard Olympics at 3:00 at the fairgrounds. The annual parade will take place Sunday evening beginning at 6:30. The theme this year is " The Fair Must Go On." Parade attendees will have the opportunity to hear the Topeka High Drum Line, who will also perform in concert at 7:45 at Skoch Park.
The Fair will wrap up Monday evening with a family barbeque by the Sabetha FFA Alumni at the Livestock Arena, auction of Commissioner's cookie jars, presentation of the livestock judging and round robin awards and 4-H & FFA Premium Auction.