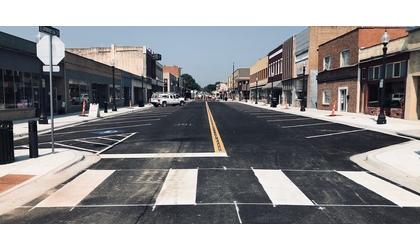 Credit: City of Atchison/Facebook
(KAIR)--A new-era begins in Atchison, with the opening of the 500 and 600 block of Commercial Street to vehicular traffic as of Tuesday evening.
According to a Tuesday afternoon release from the City, the opening is planned by 5:00 Tuesday evening, July 27
That comes as part of an underway overhaul of the City's downtown district, with a major portion of the work involving the now-complete removal of the former pedestrian mall.
According to a release from the City, motorists, in the days to come, "should expect limited impacts to parking availability as contractors work to button up the project."
The release also notes that the 500 block of Commercial Street will be closed most of the day on Friday "in preparation for a grand opening event hosted locally by Atchison Main Street and the Atchison Area Chamber of Commerce" that evening.
Traffic has not been allowed in the two blocks of Commercial Street in nearly sixty-years, with the former pedestrian mall replacing the streets following two flash-floods that devastated the City's downtown in 1958.
Removal of the mall began in February.
The Atchison City Commission voted last year to move forward with demolition of the mall, with 75-percent of the demolition project's cost being funded through a Kansas Department of Transportation grant, leaving the City responsible for the remaining 25-percent.