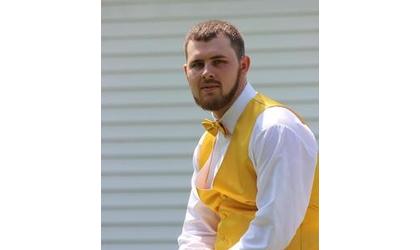 Lane Sinclair (Credit: Becker-Dyer-Stanton Funeral Home in Atchison)
(KAIR)--Details are released regarding a fatal weekend crash that claimed the life of an Atchison man.
Dead is 24-year-old Lane Sinclair, who died Monday at the University of Kansas Hospital, in Kansas City, Kansas. That's where he was transported following the Sunday afternoon Doniphan County wreck that claimed his life.
According to the crash report from the Doniphan County Sheriff's Office, Sinclair, aboard his Honda motorcycle, eastbound on U.S. Highway 36, attempted to pass an eastbound Ford Focus while both were in the inside lane of the highway, while a third vehicle was in the outside lane.
According to the report, Sinclair "did not have enough room to pass" leading to the fatal crash around 3:00 Sunday afternoon.
Sinclair's obituary, from Atchison's Becker-Dyer-Stanton Funeral Home, says his services are planned for Monday afternoon at 2:00 at the funeral home.
Among Sinclair's survivors are his wife, Serene, and a daughter, Paisley.