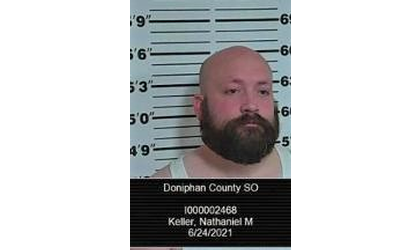 (KNZA)--The arraignment for a former Doniphan County Sheriff's deputy facing multiple charges has been pushed back.
Nathaniel Keller had originally been scheduled to appear in a Doniphan County courtroom Wednesday, but his arraignment was postponed to February 16.
At the hearing, Keller is expected to enter a plea to the 15 counts against him. They include criminal sodomy, three count of aggravated indecent liberties with a child, furnishing alcohol to a minor for illlicit purposes and promoting obscenity to minors. In addition, he's charged criminal restraint, criminal threat, four counts of domestic battery, criminal damage to property, stalking and aggravated intimidation of a witness or victim.
Keller is accused of sexually assaulting a 14-year-old girl on several occasions between May and December 2017. In addition, he's charged with crimes alleged to have occurred in 2019 and 2021.
Keller was arrested in June of last year after Kansas Bureau of Investigation agents served a search warrant on his home.
He remains free on a $500,000 bond.