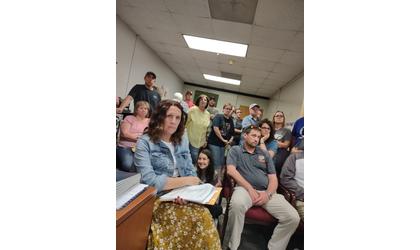 (KLZA)-- A standing room only crowd attended the Falls City School Board meeting Monday night.
During the Audiences section of the meeting several concerned parents and grandparents addressed the Board concerning the "Second Step" program which patrons described as a highly sexualized program that deals with topics such as transgender, homosexuality and racism.
Hilary Courtney said she feels these are not the topics to be taught in school, but should be taught at home.
The program was created by The Committee for Children and says it utilizes an holistic approach to social and emotional learning.
A major criticism from some of the speakers was a perceived failure of the school district to let parents know the Second Step program was being taught and what the topics covered by the program consisted of.
Tim Campbell who has grandchildren attending District 56 addressed the Board. Campbell said "the School District has no right to teach his children about sexual things without his consent; no right to teach children the opposite of what he teaches them about Christian values; and that the government, schools, teachers and the morally challenged have no right to devalue parents and their authority over their children."
Sondra Goff asked about how controversial programs will be handled in the future and how will parents be made aware of these programs?
Board member Kevin Scheitel told the audience members that there was no attempt to hide the program from anybody and that the Board has complete trust in the school districts administrators.
Following approximately 30 minutes of comments the Board moved on to their regular agenda.
Following an executive session later during the meeting to discuss litigation, the Board went back to open session.
At that point, the Board voted to suspend the use of the Second Step program.