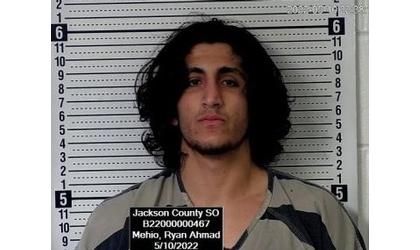 Ryan Ahmad Mehio/Credit: Jackson Co Sheriff's Office
(KAIR)--An out of state man, passing through the local area, found himself jailed after a traffic stop leads to the alleged discovery of drugs and false identification.
It happened Tuesday in Jackson County after a deputy stopped a car for a traffic infraction near 158th Road and U.S Highway 75..
According to a release from Jackson County Sheriff Tim Morse 19-year-old Ryan Ahmad Mehio, of Chandler, Arizona, was taken into custody around 8:30 that morning on charges for possession of a stimulant, possession of a hallucinogenic drug, possession of drug paraphernalia, and possession of a fraudulent identity card.
Mehio was booked into the Jackson County Jail.