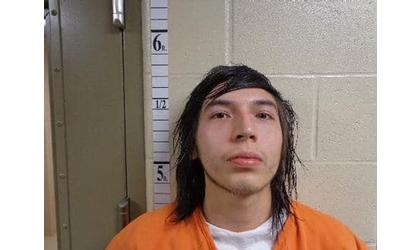 (KLZA)-- A 20-year-old Texas man is facing multiple charges following a pursuit beginning in Richardson County early Tuesday morning and ending in Nemaha County, Nebraska.
A news release from the Richardson County Sheriff's Office said Deputies grew suspicious of criminal activity when a vehicle noticed their presence and began making multiple turns without signaling in an attempt to dodge the deputies.
When the Deputies activated their emergency lights to pull the vehicle over, the vehicle proceeded north on Highway 75 near mile marker 11. Deputies then engaged in a pursuit that reached speeds of more than 100 miles per hour.
The pursuit ended in Nemaha County, Nebraska at the intersection of Highway 75 and 725 Road when Nemaha County Deputies were able to spike the tires on the vehicle.
Once the vehicle came to rest, the male driver fled on foot and was later arrested. The driver was identified as Chase Cook, from Texas.
Once the vehicle was stopped, Deputies discovered there were multiple minors in the vehicle, one being less than three-months old. A 58-year-old female passenger was transported to the Nemaha County Hospital in Auburn.
Cook is facing multiple charges in Richardson County including several felonies. The felony counts include two counts of child endangerment; four counts of false imprisonment; and flight to avoid arrest. In addition there are several misdemeanor charges.
This is an ongoing investigation and more charges could be filed.
The Richardson County Sheriff's Office thanked the Nemaha County, Nebraska Sheriff's Office for their assistance.