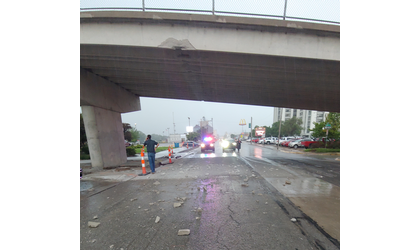 Atchison's 6th Street viaduct was damaged, and closed Wednesday, August 3, 2022, after a Kenworth struck it as it passed beneath. (Photo credit: Atchison Police Department)
(KAIR)--A Wednesday morning Atchison accident left a major city travel route damaged and closed.
According to a release from Atchison Police Chief Mike Wilson, Atchison's 6th Street viaduct incurred the damage after an excavator on a trailer, being pulled by a Kenworth truck passed beneath it, eastbound on Main Street, around 7:45 Wednesday morning. As it passed, it struck the underside of the viaduct, causing the damage that left the viaduct closed Wednesday.
The truck is owned by L&L Construction and was driven by Atchison resident Kim Rader at the time of the accident.
Wilson told MSC News the viaduct will remain closed until it undergoes a review by a bridge inspector. That timeline is not immediately known.