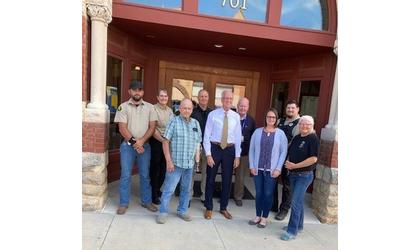 U.S. Senator Jerry Moran made a stop at the Hiawatha City Hall Thursday. On hand were members of the Hiawatha Police Department, Mayor Bill Collins and Interim City Administrator Larry Paine/ Photo:Greg Bebermeyer
(KNZA)--U.S. Senator Jerry Moran made a stop in Hiawatha Thursday afternoon to announce the awarding of a grant to the Hiawatha Police Department for new technology.
As the lead Republican on the Senate Appropriations Subcommittee on Commerce, Justice, Science and Related Agencies, the Kansas Republican helped secure $30,000 in federal funds in the fiscal year 2022 appropriations package for the Police Department.
Police Chief Mickey Gruber said the funds will be used to purchase ten new tasers, replacing outdated ones. He said the new devices will enhance the officers' ability to perform their duties, protect the citizens of Hiawatha and deflect situations without having to use lethal force.
The funds are expected to be delivered by the end of the month.