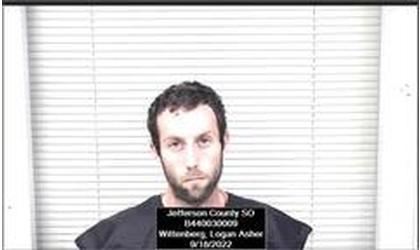 (Credit: Jefferson Co Sheriff's Office)
(KNZA)--Formal charges have been filed against a rural Oskaloosa man in connection with a shooting Sunday evening in Jefferson County.
A complaint was filed Tuesday in Jefferson County District Court charging 27-year-old Logan Wittenberg with two counts of attempted second-degree murder, two counts of aggravated battery and one count of aggravated assault, all felonies.
Wittenberg made his first appearance in court Tuesday afternoon on the charges.
According to the criminal complaint, he is charged in the attempted murder of Brian Robinson and Ashley Perdue. Wittenberg is charged with threatening another individual with a handgun.
He remains in the Jefferson County Jail, held on a $100,000 bond