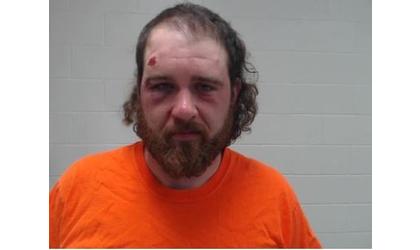 David Gardner/Credit: Atchison Co Sheriff's Office
(KAIR)--An early Monday morning crash, in Effingham, turned into a pursuit that ended with another crash and the arrest of a 27-year-old Effingham man.
According to a release from Atchison County Sheriff Jack Laurie, it was 1:30 Monday morning when an Atchison County Sheriff Deputy observed a vehicle crash at 4th and Edwards Road, in Effingham, with the Honda Civic traveling into the ditch on the west side of Edwards Road.
The car, driven by Effingham resident David Gardner according to Laurie, began to head out of the ditch when the deputy activated his emergency lights. Instead of stopping, it's alleged that Gardner drove on, traveling south on Edwards Road and into a corn field on the west side.
According to Laurie, the deputy pursued Gardner until Gardner's car crashed into an embankment, leading the suspect to flee on foot into the corn. A 20 to 30 minute pursuit was launched, with deputies ultimately locating Gardner and taking him into custody.
Following his arrest, Gardner was taken to Amberwell Hospital-Atchison where he was medically cleared and released to the Atchison County Jail. Gardner now faces charges for driving under the influence 2nd offense, flee and attempt to elude, criminal damage, and operating a vehicle without an ignition interlock device.
Gardner is currently free after posting a $2,500 bond.