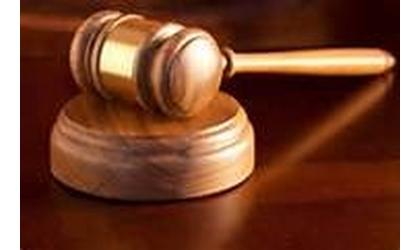 (KAIR)--A Leavenworth man is convicted on two counts of aggravated assault of a law enforcement officer.
That happened Friday, in Leavenworth County District Court, where Donald Barden, Jr. was also convicted in a case of residential burglary, and a third case involving auto burglary and felony criminal damage to property that happened the same day as the second case.
According to a release from Leavenworth County Attorney Todd Thompson, the crimes occurred in February of this year.
Sentencing for Barden is scheduled for October 28.
The release explains that on the morning of February 11, Barden entered a vehicle parked on a Leavenworth street, causing extensive damage to the vehicle's interior while, according to Thompson, "searching for something to steal, but he was not able to locate anything of value." Investigating officers later located a wallet holding identification cards bearing Barden's name inside the vehicle.
That same morning, according to Thompson, "Barden forced his way into a residence in the 700 block of Cheyenne Street, in Leavenworth, with the intention of stealing the keys to the homeowner's vehicle." Locating them, he went outside to steal the vehicle but was stopped by the homeowner. However, Barden had fled before police arrived.
It was two days later, Thompson said, that Barden was found standing in the middle of a Leavenworth intersection, armed with a Glock pistol.
Refusing to drop the weapon when ordered to do so by Leavenworth and Lansing Police, he later raised the gun and ran toward police, who shot Barden several times, including in his groin, causing Barden to fall to the ground.
Transported for hospital care, Barden was later arrested.
The Glock was found to be unloaded.