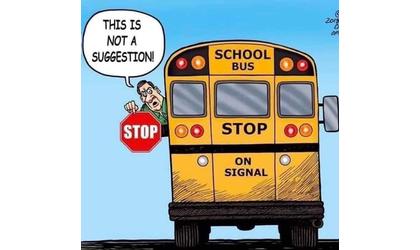 (KLZA)-- The Richardson County Sheriff's Office is urging motorists to be mindful of stopped school buses.
Multiple incidents have been reported regarding motorists failing to stop for buses that are loading or unloading students throughout the county. Nebraska law requires drivers of a motor vehicle approaching a school bus displaying flashing yellow lights from the front or rear to reduce their speed to not more than 25 miles-per-hour.
When approaching a stopped school bus with flashing red lights and an extended STOP sign, the operator is to bring their vehicle to a complete stop, and remain stopped until the flashing lights are off, the STOP sign is retracted, and the bus resumes motion.
The Richardson County Sheriff's Office will be conducting a zero-tolerance enforcemet of school bus signal violations throught the school year and asks motorists to work with the local school districts and bus drivers in keeping our children safe.
A conviction for a school bus signal violation carries a $500 fine and three points assessed against the violator's driving record.