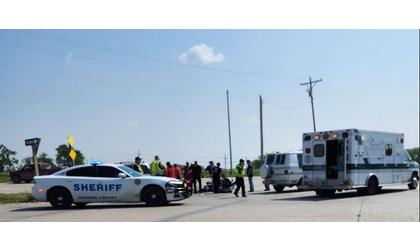 (Credit: MSC News)
(KNZA)--A late Tuesday morning Jackson County crash, that led to serious injuries, happened when the driver of a van failed to yield to a motorcycle.
That's according to a report from the Kansas Highway Patrol, which says the van, westbound on 190th Road, was struck by the motorcycle, northbound on U.S. Highway 75, when the van's driver failed to stop at the intersection.
The Harley Davidson motorcycle rider is identified as 43-year-old Matthew Stegall, of Topeka. He was transported to Topeka's Stormont Vail for the treatment of suspected serious injuries.
The driver of the van, 73-year-old Jimmy Allen Tillotson, of Circleville, was not transported, but incurred what the KHP calls a "suspected minor injury."
The wreck happened shortly after 10:30 Tuesday morning, south of Holton.